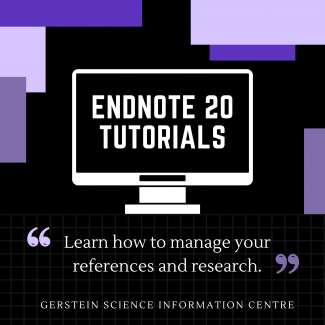 Gerstein Science Information Centre and the Dentistry Library have created a series of 15 tutorial videos on EndNote 20. The videos are designed with health sciences researches and students in mind, and cover everything from the basics to more advanced use of Endnote.
These tutorials will help you achieve tasks such as:
How to get started, including installation 
How to import references from different databases popular in the health sciences 
How to find, attach, and export full text PDFs 
How to remove duplicates 
How to import your references into Excel and different platforms for screening or data extraction 
… and more!
The tutorials are available through the UTL Endnote Desktop library guide or on our YouTube channel.