Need a break from studying? Come relax and unwind at the Gerstein Unstudy Spot, happening December 6 through 17th.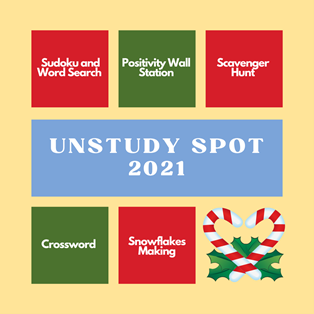 Drop by the main floor lobby anytime for activities including snowflake making, crossword puzzles, Sudoku and word search. Need a boost? Drop by the Positivity Wall, where you can read and share whatever brings you joy and energy by posting a note on the wall across from the Centre for Research and Innovation Support.
Join our scavenger hunt by either accessing our online form or picking up a paper form from the scavenger hunt station in person. To win a prize, please make sure to complete and submit your form by the end of the day on Dec 16th. If you have any questions or suggestions about any of the activities, please reach out to us at unstudyzone2021@gmail.com.
For more information and updates on the activities, please follow us on Instagram, Facebook, and Twitter.
Wishing you a fun and stress-free exam period!