The remote 3D printing service allows you to design and submit a print job from home. The MADLab takes care of the printing process, and when your print job is done, you will be notified to pick it up at the service desk at the Gerstein Science Information Centre. 
How to Access
3D Printing @ Gerstein + MADLab is available to all certified staff, faculty, and students who hold a valid University of Toronto T-card. The cost is $1.50/half hour, to the nearest minute. For details, please review our Remote 3D printing service Policies and Procedures.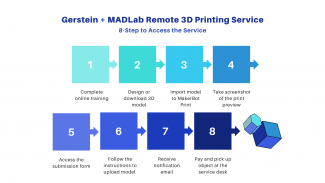 Get Certified
Everyone who uses the remote printing service needs to pass a virtual training module. This training module covers how 3D printing works, the ins and outs of design software, and the policies and procedures of the Gerstein service. For more information and to get certified, enroll in the online training module.
Equipment Specifications  
At MADLab, we have two MakerBot Sketch 3D printers for remote 3D printing. The maximum build volume for these machines is 150x150x150mm. For details, please check the MakerBot Sketch User Manual. 
Material Specifications 
The 3D printers at Gerstein + MADLab use PLA (polylactic acid), a biodegradable thermoplastic aliphatic polyester derived from corn starch. It's safe to use in our space. You can view the PLA Material Data Safety Sheet.  
The filament is available in a choice of two colours at any given time. The remote printing submission form includes an option for selecting a colour. Please note that colour requests cannot be guaranteed. Also, note that white PLA can be painted.