September 2020:
Virtual Science Literacy Week at Gerstein & U of T Libraries! Sept 21-27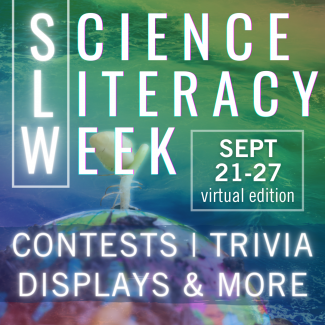 Canada is a country rich in biodiversity, and this year we're celebrating that diversity. From lakes to oceans, prairies to boreal forests, marshland to tundra, our country is brimming with science. We're encouraging Canadians to explore what makes these environments unique and so amazing and why we need to conserve them for future generations.
Along with organizations from across Canada, U of T Libraries is celebrating the beauty and importance of biodiversity across the nation. Participating libraries from St. George, UTM, and UTSC campuses will offer virtual displays, contests, trivia & other content that will inspire you all week long!
Gerstein Library's online activities 
---
What is Science Literacy Week?
Science Literacy Week showcases the diversity of Canadian science and the culture it's embedded in. Libraries, museums, science centres, schools and not-for-profits come together to highlight the books, movies, podcasts and events that convey the excitement and influence of science in our everyday lives. It's about each and everyone's unique relationship with science and how they live it.