Gerstein Science Information Centre provides access to computers and wifi, printers, photocopiers and scanners, as well as a dedicated Instruction Lab and mobile application development lab (MADLab).  
For more information on technology loans, 3D printing and VR services, please see our Technology Services page.
Computers and wi-fi 
There are 108 computers with Microsoft Office, web browser, NVivo, Zoom, and updated accessibility software available throughout the library for student, staff, and faculty use. 
Use our computer finder to view their availability in real-time and exact locations in the building. 
Includes: 
Seated and standing computer workstations (accessible to U of T students, staff and faculty; UTORid login required)     
1 dedicated workstation for searching the library catalogue 
Note: Wi-fi access is available to current students, staff, and faculty throughout Gerstein. UTORid sign-in required. How to configure wi-fi on your device. 
Printers 
Cost: $0.15 per side (b/w), $1.00 per side (colour). Printing is double-sided by default 
Location:  
1 black/white on main floor, Wallace Room     
1 black/white on main floor lobby 
1 colour on main floor lobby 
Photocopiers 
Cost: $0.10/page. Photocopiers only accept TCards or visitor printing cards as payment
Location: 1 on main floor lobby 
Scanners 
Scan to a USB flash drive     
Cost: Free 
Location:  
1 in Short Term Loan area 
2 in main floor lobby 
Instruction Lab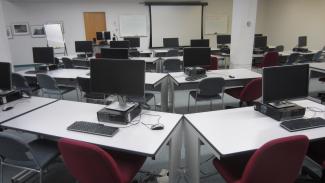 Location: Morrison Pavilion, second floor 
Includes:  
19 PC workstations 
1 presenter workstation 
1 projector 
1 microphone 
Web conferencing available 
Accessibility: Back row of workstations are accessible by wheelchair 
Capacity: 38 people
Reserved for instruction sessions only
MADLab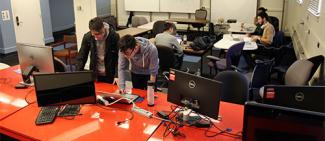 Location: Room B112 (south end), 1 Below, Heritage Wing 
For more information, please visit the MADLab website.