Technology and tools spaces - Photocopiers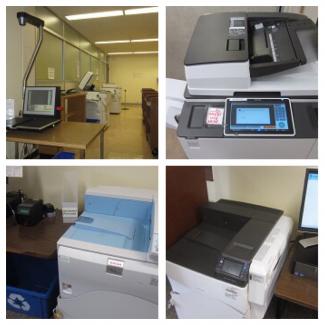 Printing, photocopying, and scanning
Photocopiers:
1 black and white photocopiers available
Cost: $0.10/page. Photocopiers only accept TCards or visitor printing cards as payment (money can only be added to card with credit or debit cards)
Scanners:
3 scanners available which scan to a USB flash drive
Cost: Free 
Printers:
2 black and white printers available
1 colour printer available
Cost: $0.15 per side (b/w), $1.00 per side (colour).  Printing is double-sided by default
Wireless printing to public networked printers is also available.
Location
Photocopiers
Scanners: 
1 in Short Term Loan area
2 on main floor, Lobby
Printers:
1 b/w on main floor, Wallace Room
1 b/w on mainfloor, in general computer area
1 colour on main floor, general computer area