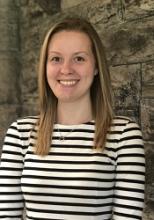 Liaison & Education Librarian
416 978-6938
Gerstein Science Information Centre
9 King's College Circle
Toronto, ON M5Z 1A5
Mikaela joined the University of Toronto as a Liaison & Education Librarian at the Gerstein Science Information Centre in 2017. Her role includes supporting students and faculty from the Lawrence S. Bloomberg Faculty of Nursing through the provision of information literacy instruction, one-on-one research consultations, collaboration on knowledge syntheses, and collection development and material selection.
ORCid
https://orcid.org/0000-0001-5580-5824
Published works
Commisso, E., McGilton, K.S., Ayala, A.P., Andrew, M.K., Bergman, H., Beaudet, L., Dubé, V., Gray, M., et al. (2017). Identifying and understanding the health and social care needs of older adults with multiple chronic conditions and their caregivers: a protocol for a scoping review. BMJ Open. http://dx.doi.org/10.1136/bmjopen-2017-018247
Teaching
Supported Courses (2017-Present)
Lawrence S. Bloomberg Faculty of Nursing
Grants
Provost's Instructional Technology Innovation Fund (ITIF), University of Toronto. $1980. Using Interprofessional, Student-Directed Simulation to Enhance Critical Thinking and Collaboration in Emergency Situations in Community Health Settings. Lawrence S. Bloomberg Faculty of Nursing. Lok, J., Cambly, E., Parry, M., Lai, J., Kanofsky, S., Tzakas, P., LeBouthillier, C., Ibrahim, S., Tyrrell, S., MacInnes, N., Bashiri, Y., Gray, M.