The Great Gerstein Banner Design Challenge:
And the winner is...

...U of T student Issey Roquet!  Congratulations to Issey on her fantastic designs for the Gerstein Library's new outdoor banners. 
The Gerstein Library thanks all participants for their creative submissions.
To see the winning design and to learn more about the winner and finalists, click here.
Celebrate the launch of our new banners with a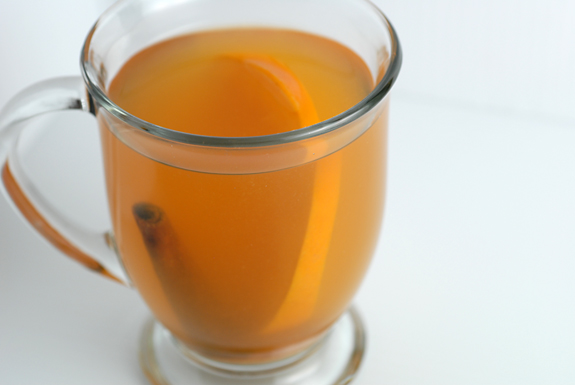 Hot Cider Study Break!
Tuesday, December 2, 3:30-4:30pm
 Information Desk, Gerstein Library
Drop-in event - all are welcome!
Come by to warm up with a free cup of hot cider, pick up a souvenir bookmark featuring a banner design by one of our three finalists, and see our shiny new banners up close.
Photo Credit: elana's pantry via Compfight cc
| | |
| --- | --- |
| | Issey Roquet is a 3rd year international student, doing a double major in Communications (ICCIT program at UTM) and Political Science. She has a strong passion for design, notably visual and digital design, as well as an interest in semiotics and embodied cognition. |
| 2nd place winner: | Thanvin Giridhar is a 3rd life sciences student. Apart from studying and extracurriculars, he spends his spare time drawing/designing using the Adobe suite or his iPad. |
| 3rd place winner: | Crystal Leung is a 2nd year student currently studying pharmacology and immunology. |
---
Calling all U of T students - see your design on the Gerstein Library's outdoor banners!
Contest Deadline:  The contest is now closed - winners will be contacted in Oct 2014.
Thanks for your submissions!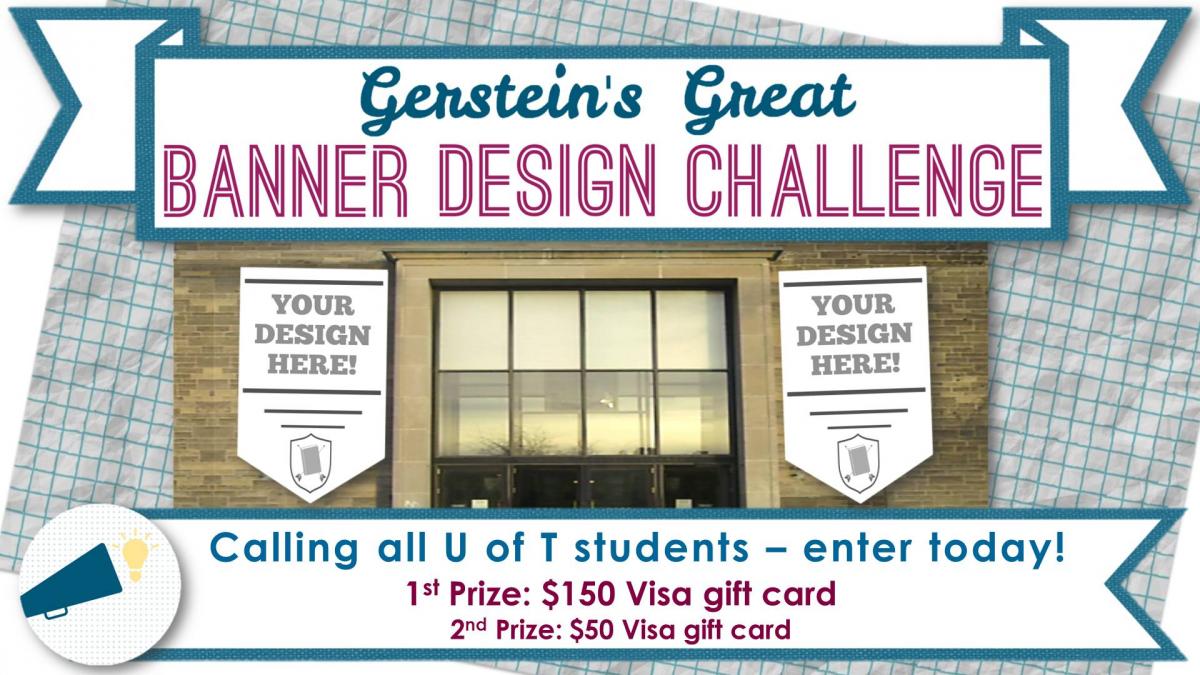 Whether you're a budding graphic designer or have just have some serious creative flair,
we want YOUR biggest and best designs to decorate the illustrious doorway to the Gerstein Science Information Centre (aka the Gerstein Library), Canada's pre-eminent science and health science academic library!  
Express what Gerstein means to you for a chance to have your design displayed on our banners and win a great prize!
The following prizes will be awarded for the top 2 designs:
1st Prize: $150 Visa Gift Card
2nd Prize: $50 Visa Gift Card
---
---
Designs should incorporate both banners in a cohesive and complementary manner, and should convey one or more of the following themes into TWO (2) banners:
    learning and research intersect
    where knowledge creation happens
    innovation from collaboration
    space for inspiration
Create a design that expresses your appreciation for Gerstein, using the suggested themes (listed above) as inspiration.

Posters must be submitted electronically.

Submission size for electronic submissions: 72 dpi

Use the provided templates and file formats to show how your design will work on the banners that that flank Gerstein's front doors.

Email your design and completed submission form by September 19, 2014

October 3, 2014 at 11:59pm EST

to:  contest.gerstein@utoronto.ca
Winner(s) will be notified by email in October 2014. All decisions are final. Please note that only one prize will be awarded per winner/winning team.
---
Following the technical specifications below, please submit your designs electronically.
Recommended Design Software:

Recommended File Formats:

Minimum Resolution:
Recommended Typefaces:

Recommended Colours:

Adobe Illustrator, InDesign, Photoshop
GIMP
Quark Xpress

INITIAL SUBMISSION DESIGN FILE:  PSD, AI, or INDD 

FINAL SUBMISSION FILE*: AI, PDF, EPS, or INDD files, CS5 or lower

INITIAL SUBMISSION DESIGN FILE: Recommended size - 72 dpi

FINAL SUBMISSION FILE*:  300 dpi

Helvetica Neue
or a similar sans serif font with lots of weight
Banner Dimensions and Design Area Guidelines: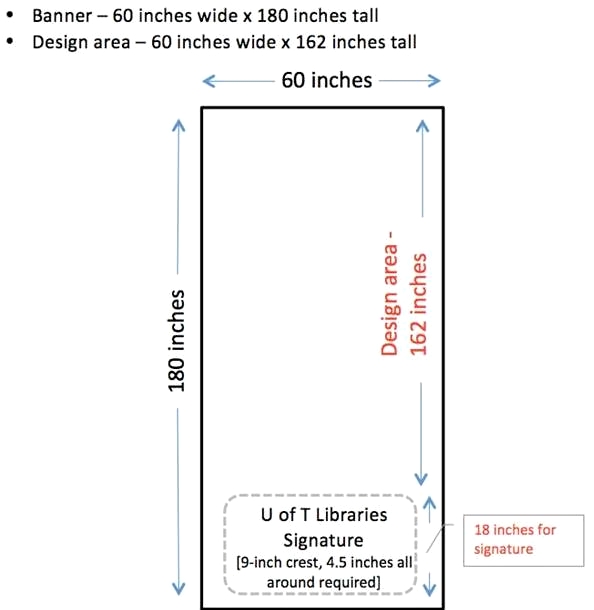 *Note for final submission file from finalists/winner(s): 
Final submissions are by invitation only, with the following larger size and resolution requirements: 
60"x180"@ 300dpi and a minimum of 1" bleed all around should be added to the file, and any fonts should be outlined or included.
Do not submit this file in your initial submission. The judges will request the larger size and resolution in late October 2014. At that time, the library will provide instructions for final submissions.
---
1. Contest Duration:  The contest opens July 28 and runs until Sept 19 Oct 3.
2. Eligibility:  All University of Toronto students (based at the St. George, UTM, or UTSC campuses) who are current students at the time of submission are eligible to enter.  Designs must be produced entirely by University of Toronto students (no professional designers, editors, etc).
3. Themes:  Designs should incorporate one or more of the themes listed above.
4. Technical Requirements: Designs must be submitted according to the listed specific technical requirements and file formats.
5. Number of Submissions: Multiple submissions are allowed. You may also work in teams, and all team members will be credited for team submissions, but a single prize will be awarded for each team.
6. Consent:  If you choose to incorporate individuals in your designs, written consent must be obtained. Signed release forms must be made available to library staff upon request.
7. Copyright and Originality:  All designs must be created by entrants as previously unpublished original works. The use of any content for which someone else owns the copyright, including photographs, images, or trademarked materials created by others which you do not have authorization to use, will result in disqualification.
8. Content:  Designs will be disqualified if they include violence, offensive language or other inappropriate material.
9. Winning Entries:  Winner(s) will be announced in October 2014.
10. Intellectual Property:  By entering your design in the contest, you give the University of Toronto Libraries (UTL) permission to use your name(s) and design in UTL promotional materials, including UTL websites. All intellectual property rights remain with the creator of the design. UTL reserves the right to use the design in its entirety, partially, or adapt at our discretion.
11. Participation:  By entering this contest, all participants agree that they may be contacted by UTL to complete a survey about their participation in this contest.
---
Did you know that...

 

 

Last year the MADLab, an innovative mobile software development lab, opened in Gerstein?

 

Learn more about Gerstein's history and our vast collections!

 

...This library will only get better!

- Comment from suggestion box, June 2014

We need more libraries like this

they are truly a delight to visit and work in

- Deanna W., Yelp reviewer




 

See what other students are saying about us on FourSquare! 

 
---
Ask us at contest.gerstein@utoronto.ca!