General Spaces - Accessible spaces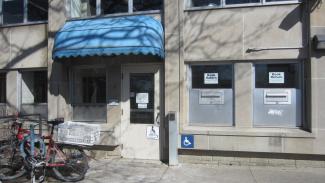 Accessible entrance
The library has a separate accessible entrance. Users press the doorbell and may have to identify themselves through the intercom before the door will open.
Note: In some areas, additional staff services may be required to access materials
More info: 
Location
Left of the main entrance, under the blue canopy
Book stacks
Our collection includes over 750,000 books on all aspects of physical, life, and health sciences.  Books are shelved by their call numbers.
Location
Basement floors, Morrison Pavilion:
1-below (call numbers A - QM)
2-below (call numbers QP - Z; Old Class Materials shelved after the Z call numbers)
3-below - Theses/dissertations (located at the end of the journal collection)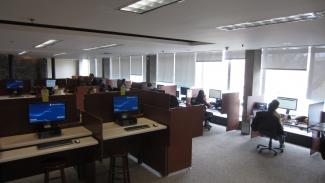 Computers and wifi
There are 109 computers available throughout the library (108 workstations with internet and Microsoft Office software and and 1 catalogue-only computer). Use our computer finder to view their availability in real time and exact locations in the building.
Includes:
13 seated and 14 standing computer workstations (accessible to U of T students, staff and faculty; UTORid login required)
5 LIRA public access terminals, one of which is wheelchair accessible (LIRA terminals are available for public use with a guest pass, which can be obtained from the LIRA kiosk on site. Valid government ID or credit card required)
1 black & white printer
1 colour printer
Note:
Wifi access is available to current students, staff, and faculty throughout Gerstein. UTORid sign-in required. Configuring your device
Location
Main floor, lobby (by entrance)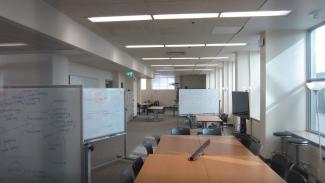 Dept. of Computer Science Innovation Lab (DCSIL)
The Department of Computer Science Innovation Lab is one of University of Toronto's nine campus accelerators.
More info: https://www.dcsil.ca/
Location
2nd floor, Morrison Pavilion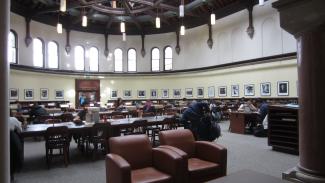 Gerstein Reading Room
Capacity: 94
Includes:
Reference collection (encyclopedias, dictionaries, handbooks) 
Table space for 72
Soft seating for 16
6 standing computer terminals
More info:  History of the Heritage Reading Room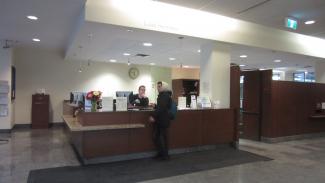 Information and Research Support
Information professionals are available for assistance with research:
at the Loan Services Desk
Staff are available during the day and can also be contacted:
Location
Main floor, lobby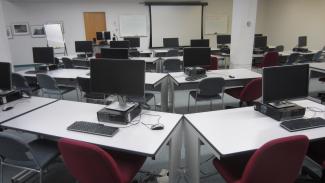 Instruction Lab
Capacity: 38 people
Includes:
19 PC workstations
1 presenter workstation
1 projector
1 microphone
web conferencing available
Accessibility: Back row of workstations are accessible by wheelchair
Location
2nd floor, Morrison Pavilion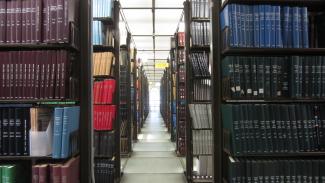 Journal stacks
We have approximately 3400 journal subscriptions, in both paper and electronic formats. Some titles date back to the 1700s.
The library also subscribes to thousands of e-journals which can be accessed online from on- and off-campus by those who have a University of Toronto staff or student affiliation.
Includes:
Print journals from 1700s-current
Individual seating and desks located at the end of selected shelves
Location
Heritage Wing:
5 floors (1975-current journals); accessible by elevator
Morrison Pavilion:
3-below, compact movable shelving (Pre-1975 journals)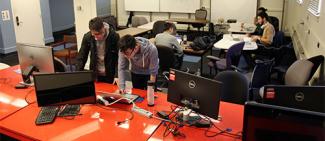 MADLab
Capacity: 30
Includes:
2 MacBook pro laptops with Xcode
1 3D scanner
2 3D printers
2 workstations with mobile SDKs and design software
Test devices for iOS and Android
Digital projector and whiteboards
2 conference/breakout rooms
Hardware samples
Equipment Locker
Virtual Reality Studio (with HTC Vive)
Refrigerator, coffee machine, microwave
More info:
Hours: generally Monday – Friday 9 AM – 5 PM  (*recommended to contact mad.lab@utoronto.ca for an appointment).
Open to all U of T students, staff, and faculty
To book a 3D printer:  https://bookings.library.utoronto.ca/gerstein
About the VR services: https://guides.library.utoronto.ca/virtualreality
About the MADLab:  http://mobile.utoronto.ca
Location
1 Below, Heritage Wing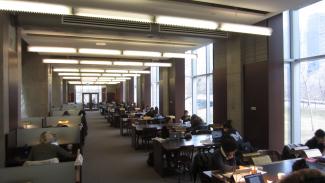 Morrison Pavilion
Capacity: 5 floors with 650 study spaces
Collections: Books by floor
1 Below - books shelved by call numbers A-QM
2 Below - books shelved by call numbers QP-Z; Old Class materials (located after the Z books)
3 Below - Theses/dissertations (located at the end of the journal collection)
Accessibility: All book stacks are accessible by wheelchair.
More info: The history of the Morrison Pavilion
Location
North-east wing spanning all floors:
2nd floor
Main floor
1 Below
2 Below
3 Below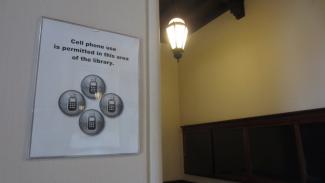 Phone-friendly
Phone use is permitted in the stairwell leading to the second floor from the Heritage Reading Room, and the stairwell leading down to the MADLab near the entrance to the Journal Stacks, as well as outside the security gates inside the main doors of the library.
Note: Phone use is not permitted in study rooms, quiet study areas, stacks and other non-designated areas.
Location
Stairwell to Heritage Wing second floor
Stairwell to 1 Below 
Stairwell outside security gates of the library
Green Beet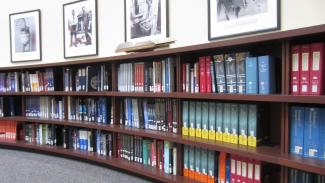 Reference collection
Our reference books include encyclopedias, dictonaries, and handbooks.
These items are not available to borrow, but may be used for in-library consultation.
Location
Main floor, Heritage Reading Room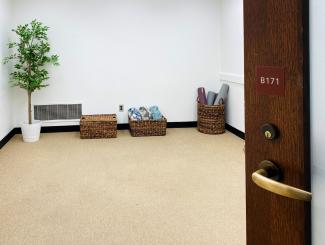 Reflection Room
Capacity: max. 8 people
A multipurpose and multifaith space for meditation, mindfulness, prayer, and yoga.
Includes:
Floor cushions, yoga mats, shoe rack
More info and guidelines:
Location
1 Below (Room B171)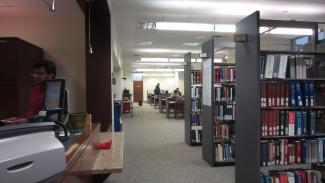 Short Term Loan Desk
Borrow  books in heavy demand or reserved by request of the professor for a particular class
Borrow:
Course reserves & short term loans
Phone chargers, laptop chargers, and headphones
Includes:
Tables and chairs for individual study
1 book scanner
Note:
Loan times vary from a number of hours to a number of days, based on the item. 
Location
Main floor lobby, adjacent to Loan Services Desk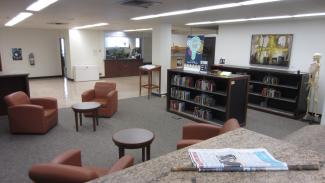 The Gerstein Book Stop Leisure Collection
A leisure reading collection available for students and staff at the University of Toronto
Capacity: Soft seating for 4
Includes: Non-academic books available to read in-library or to borrow for home
More info: About the Gerstein Book Stop
Location
Main floor, Lobby
Wallace Room
Capacity: 206
Includes:
48 study carrels
3 extra-long reading tables (accommodating 84 people) 
2 large standing tables (accommodating 20 people)
46 computer workstations with chairs
4 standing computer workstations
4 club chairs
Black and white printer 
Location
Main floor, north of lobby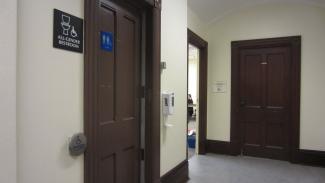 Washrooms
Washrooms are available on selected floors.
Location
Main floor
2nd floor
1-below 
Accessible & all-gender washrooms:
Main floor (near room 1230)
1-below (near accessible entrance)
2nd floor (near Department of Computer Science Innovation Lab - DCSIL)