Technology and tools spaces -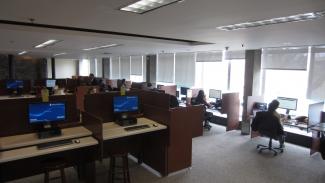 Computers and wifi
Nov 2021 update: Computers now have additional software: NVivo, Zoom, and updated accessibility software
---
There are 109 computers available throughout the library (108 workstations with internet and Microsoft Office software and and 1 catalogue-only computer).
Use our computer finder to view their availability in real time and exact locations in the building.
Includes:
13 seated and 14 standing computer workstations (accessible to U of T students, staff and faculty; UTORid login required)
5 LIRA public access terminals, one of which is wheelchair accessible (LIRA terminals are available for public use with a guest pass, which can be obtained from the LIRA kiosk on site. Valid government ID or credit card required)
2 black & white printers
1 colour printer
Note:
Wifi access is available to current students, staff, and faculty throughout Gerstein. UTORid sign-in required. More instructions on how to configure wifi on your device.
Location
Main floor, lobby (by entrance)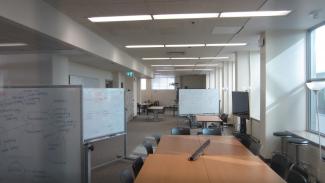 Dept. of Computer Science Innovation Lab (DCSIL)
The Department of Computer Science Innovation Lab is one of University of Toronto's nine campus accelerators.
More info: About DSCIL
Location
2nd floor, Morrison Pavilion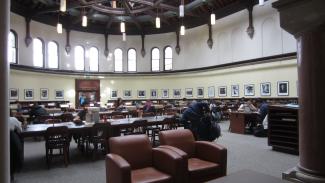 Gerstein Reading Room
Capacity: 94
Includes:
Reference collection (encyclopedias, dictionaries, handbooks) 
Table space for 72
Soft seating for 16
6 standing computer terminals
More info:  History of the Heritage Reading Room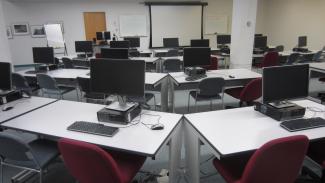 Instruction Lab
Capacity: 38 people
Includes:
19 PC workstations
1 presenter workstation
1 projector
1 microphone
web conferencing available
Accessibility: Back row of workstations are accessible by wheelchair
Location
2nd floor, Morrison Pavilion
MADLab
Capacity: 30
Includes:
2 MacBook pro laptops with Xcode
1 3D scanner
2 3D printers
2 workstations with mobile SDKs and design software
Test devices for iOS and Android
Digital projector and whiteboards
2 conference/breakout rooms
Hardware samples
Equipment Locker
Virtual Reality Studio (with HTC Vive)
Refrigerator, coffee machine, microwave
More info:
Hours: generally Monday – Friday 9 AM – 5 PM  (*recommended to contact mad.lab@utoronto.ca for an appointment).
Open to all U of T students, staff, and faculty
Location
1 Below, Heritage Wing
Presentation Practice Room 2000
Capacity: max. 6 people
Includes:
Blackboard, large LCD screen which can be connected to a personal laptop (adapters are available for PCs and Macs)
More info:
Note: Please borrow and return key at Loans Desk 
Location
2nd floor, Heritage Wing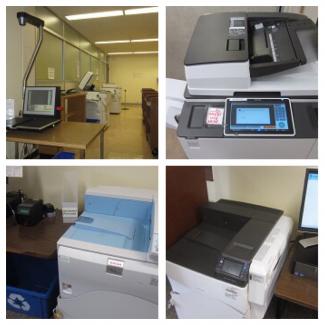 Printing, photocopying, and scanning
Photocopiers:
1 black and white photocopiers available
Cost: $0.10/page. Photocopiers only accept TCards or visitor printing cards as payment (money can only be added to card with credit or debit cards)
Scanners:
3 scanners available which scan to a USB flash drive
Cost: Free 
Printers:
2 black and white printers available
1 colour printer available
Cost: $0.15 per side (b/w), $1.00 per side (colour).  Printing is double-sided by default
Wireless printing to public networked printers is also available.
Location
Photocopiers
Scanners: 
1 in Short Term Loan area
2 on main floor, Lobby
Printers:
1 b/w on main floor, Wallace Room
1 b/w on mainfloor, in general computer area
1 colour on main floor, general computer area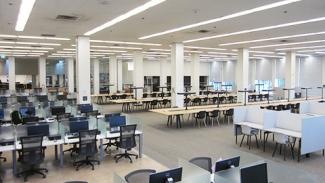 Wallace Room
Capacity: 206
Includes:
48 study carrels
3 extra-long reading tables (accommodating 84 people) 
2 large standing tables (accommodating 20 people)
46 computer workstations with chairs
4 standing computer workstations
4 club chairs
Black and white printer 
Location
Main floor, north of lobby