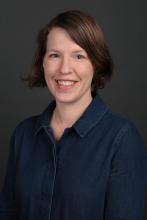 Entrepreneurship Librarian
416-978-0859
Gerstein Science Information Centre
9 King's College Circle, Toronto, ON
Carey helps current and future U of T startups and entrepreneurs find the information they need to support their ventures. She joined the University of Toronto as Entrepreneurship Librarian at the Gerstein Science Information Centre in 2015. Her market research expertise is based on her experience as a business librarian at University of Western Ontario and York University, as well as over a decade as a marketing journalist and editor, copywriter and content marketer at digital agencies and startups in Canada and the Nordic Region. Her current research interests include the core competencies of academic librarians supporting entrepreneurship, and qualitatively assessing the impact of librarian support in experiential learning environments. She is also on the team leading The 99 AI Challenge, an education and awareness building pilot project for non-technical experts.
Published works
Toane, C. & Figueiredo, R. (2018). Toward core competencies for entrepreneurship librarians, Journal of Business & Finance Librarianship, 23:1, 35-62, DOI: 10.1080/08963568.2018.1448675
Toane, C. (2017). "How entrepreneurship librarians help campus accelerators grow." University Affairs. http://www.universityaffairs.ca/career-advice/career-advice-article/entrepreneurship-librarians/
Toane, C. (2016). Looks matter: Basecamp and Slack for virtual reference. Academic BRASS newsletter. Vol 10 (2), Fall 2015. http://www.ala.org/rusa/sites/ala.org.rusa/files/content/sections/brass/Publications/Acad_BRASS/2015_fall_toane.pdf
Toane, C., & Rothbauer, P.M. (2014). Pure delight and professional development': The reading practices and library use of an active poetry community. Canadian Journal of Information & Library Science, 38(2).
Presentations
Selected conference presentations
ACRL Conference, Baltimore, USA, March 23-25, 2017
Poster presentation: "Stealth Mode: Research Habits and Needs of Campus Entrepreneurs"
VentureWell Open Conference, Washington DC, March 24-25, 2017
Poster presentation: "Stealth Mode: Research Habits and Needs of Campus Entrepreneurs"
OLA Super Conference, February 1-4, 2017, w. C. Kim and H. Kula
Presentation: "Entrepre-curious? How Libraries Support Entrepreneurs"
Teaching
Supported courses, 2015-2019
APS488 Entrepreneurship and Business for Engineers (Faculty of Applied Science and Engineering)
APS1036 Formative Experiential Entrepreneurial Learning FEEL (Faculty of Applied Science and Engineering)
CSC454 The Business of Software, Dept. of Computer Science Innovation Lab (Dept. of Computer Science, Faculty of Arts and Sciences)
CSCD71 Technology Innovation and Entrepreneurship (Computer and Mathematical Sciences, University of Toronto Scarborough)
IMC490 Research Opportunity Program (Impact Centre)
IMC392YO Exploring New Ventures (Impact Centre)
INF2325 Launching Information Ventures (Faculty of Information)
JDM3619 Digital Media Distribution (Faculty of Music)
MUS 3610H Music Entrepreneurship: Music and Cities (Faculty of Music)
MGD421 Technology Entrepreneurship (Communication, Culture, Information and Technology, University of Toronto Mississauga)
MSC2021 Translational Research Program Capstone (Faculty of Medicine)
OCT1133 Occupational Therapy Practice III (Dept. of Occupational Science and Occupational Therapy, Faculty of Medicine)
Grants
Chief Librarian's Innovation Grant for "The 99: An AI Challenge for the U of T Community." 2019.