Get quick, live online help from Gerstein library staff (via Bb Collaborate) for:
tips on background research
recommendations on where else to search
finding journal articles/books/ebooks
getting full-text articles
up-to-date information about library services, spaces, and more
Hours of operation:
HOLIDAY CLOSURES:  Wednesday, December 23, 2020 to Sunday, January 3, 2021 inclusive
Monday to Friday

10am-12pm  |  2pm-4pm  |  6pm-8pm

Saturday & Sunday
---
First time using this help desk? Here's how to use it:
Step 1: Type your name and click Join Session to enter the session as a guest.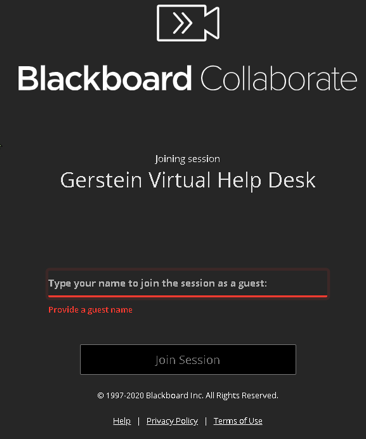 Step 2: You'll enter the BbCollaborate session, where a Gerstein staff member (the Moderator) will answer your questions.  
Here's what the screen will look like:
In-meeting control tools: turn on your mic/camera, set your status and raise your hand
View control tools: zoom in, zoom out, best fit, actual size of the shared content
Annotation tools: select, pointer, pencil, shapes, text, etc.
Chatbox: select and message everyone or selected people
Share content: whiteboard, application/screen, camera, files (wait for staff to grant access)
To exit: Close the current browser tab or window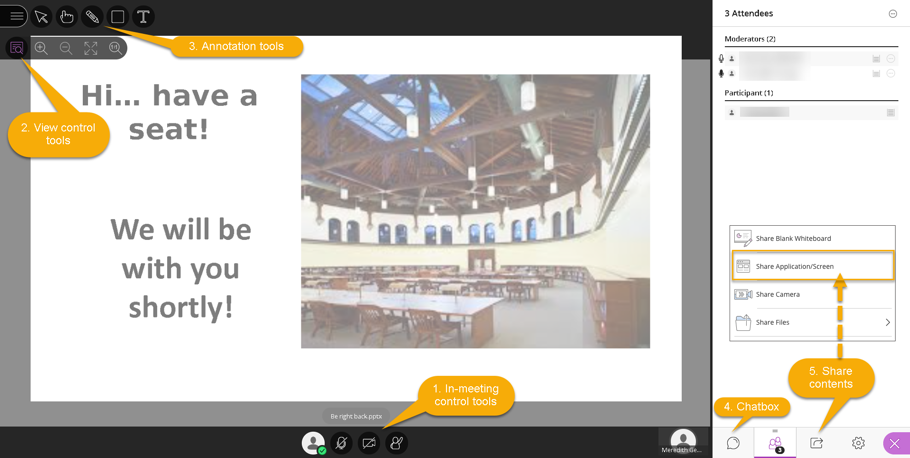 Let us know what you think about this service - please share your feedback via this short survey: http://bit.ly/gersteinhelpdeskfeedback
---
Other ways you can get help from the library:
Email: ask.gerstein[at]utoronto.ca
Have more questions? Learn more about Research Help & Teaching Support
---