Eligibility*
Who is eligible?
The SSRC is exclusive for the following current University of Toronto faculty members (St. George Campus):
affiliated with the health sciences
affiliated with the departments of Education, Psychology, Political Science, Social Work, and Public Policy & Urban Studies

Note: This service is NOT for students. If you're a student, book a consultation with your liaison librarian or inquire here
Who is not eligible?
Faculty members outside the health sciences
Faculty members outside the social science disciplines of Education, Psychology, Political Science,Social Work, and Public Policy & Urban Studies
All students (including post-doctoral fellows and residents)
All individuals who are not affiliated with the University of Toronto, including: 
Alumni 
Members of the public 
External students, faculty, researchers, research assistants
What projects are eligible?
Projects must be faculty-led projects, and can be:
Systematic reviews

Scoping reviews

Rapid reviews

 

Any knowledge or protocol-driven evidence synthesis
What projects are not eligible?
We don't participate in the following projects:
Background

searches

Student

assignments

Student research projects

 

Theses or dissertations

Evaluation or peer review of search strategies

 
*The SSRC is intended for evidence synthesis-type reviews leading to original research, not for the purpose of assignments or course-related studies.  
Students involved in assignment or course-related research can meet with a librarian for a consultation on how to conduct a comprehensive search of the literature.
Parameters
The parameters of the service, and expectations of the Principal Investigator and the librarian, are outlined below:
Meeting with the Principal Investigator:

In order to make best use of everyone's time and to keep the project moving, the Principal Investigator of the project should take the lead in applying for the service, attending the consultations and communicating with the librarian.

 

Co-authorship: Librarians make a substantial contribution to the work and meet the ICMJE criteria for authorship. Librarians will be offered co-authorship, which they may choose to accept or decline.
Responsiveness: Due to the time-intensive nature of this work, and involvement in other projects, it is requested that teams communicate promptly with librarians so that progress on the project can begin and continue.
Steps & Timelines
Conducting an evidence-synthesis study is a big endeavor that can take up to a minimum of 9-12 months to complete. We're here to partner with you! Here is what you can expect from the Systematic and Scoping Review Collaboration (SSRC).
Application
Once you have:
1) assembled the team
2) developed a protocol, and
3) determined your eligibility to use the SSRC, it is time to apply
Please note that an application is not a guarantee that a librarian will be available to join your team. Librarians have autonomy over which projects they choose to be involved in and partnership may not be possible due to availability and timing. If your project is not accepted to the SSRC, your team is still eligible for consultation(s) with a librarian. You can expect to hear a response within 5 business days, or longer during times of high volume.
Initial Consultation
If enough information is provided, a librarian will schedule an initial consultation with you to discuss your application for the service. During the meeting the suitability of your project to the service will be determined and specific aspects of your project will be discussed, to include:
the research question
the search parameters
databases to be searched and timelines
Searches (Preliminary Search  |  Final Search and Translations)
For those reviews that have been accepted, the librarian will develop an initial search strategy for one database for your review and  feedback. This will be completed within four weeks of the consultation. This iterative process can take up to four additional weeks, the search will be edited until it is suitable.
The librarian will translate the strategy for other article databases, and the strategies will be sent to you. The librarian can provide guidance to your team on best practices for downloading and managing the citations from the databases.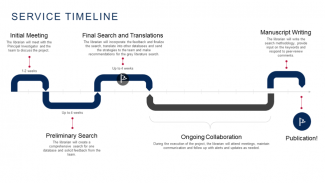 Manuscript Writing
The librarian will write the search strategy methodology to be included in the methods section of the manuscript. Attention will be placed on ensuring the search methodology is transparent and reproducible.
The librarian will provide input on keywords required for the manuscript submission process and respond to peer review comments.
For a detailed list of what to expect, please consult the Roles and Deliverables page.
---
Note: Due to the time-intensive nature of this work, librarians may only participate in a few projects at a time and may not be immediately available to join your project. 
When a librarian is at capacity, a new timeline may be negotiated, the work may be reassigned to another librarian or your request will be queued or it may simply not be taken up by our team. There may be projects that fall out of the scope of our service altogether.